Presentation to Joe Hester
In October 2013 Joe Hester retired from writing the local news for the Clare Champions local notes section. Joe had held this voluntary post since 1974, just short of a phenomenal 40 years of service.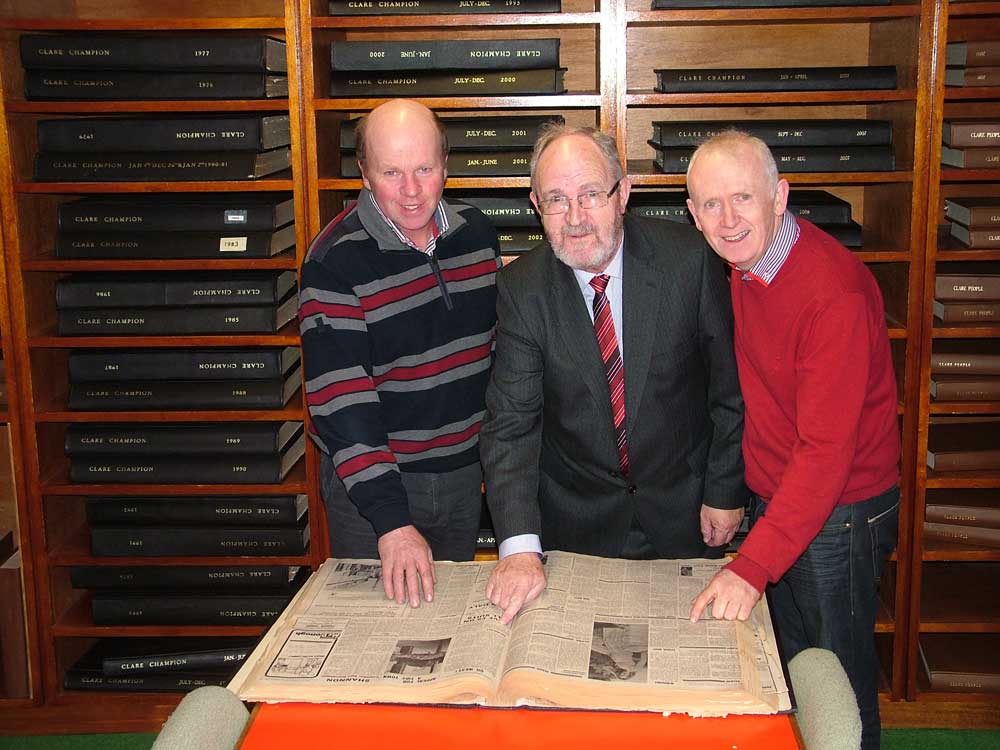 Left to right.... Joe Kelly (chairperson pastoral council) Joe Hester and Mike McMahon (pastoral council & Local notes)
To recognise this contribution to the Parish, the Pastoral council decided to make a presentation to Joe on behalf of the people of the parish to recognise and thank him for his loyal service to the community. Joe was presented with an iconic piece of Brassware by Chairperson of the pastoral council Joe Kelly. The piece is designed with two hands joined in a handshake symbolising "appreciation" for Joe's long contribution.
Also pictured is Mike McMahon who took over the role of local notes correspondent from Joe and you can send your messages for the Ballynacally local notes to him at ballynacallynotes@gmail.com or by text to 086 6020553.
Joe is pictured above examining the first of his local notes articles in the Clare Champion edition of May 1974 with the two members of the pastoral council looking on. The picture below shows Joe Kelly presenting Joe Hester for his many years of voluntary service to the community in writing the clare champions local notes. The presentation was made in the county Library archive office where all publications of the local county newspapers are kept and available to view by the public.