"You must speak to Jesus not only with your lips, but with your heart" Padre Pio. 
Ballynacally / Lissycasey Newsletter
P.P. Fr Albert McDonnell 085 7811823
Email: a.mcdonnell@killaloediocese.ie
Parish Office 065 6838135
Fr. Joe Hourigan 065 6834145; 086 8170700
www.ballynacally.com             www.lissycasey.com
14th Oct & 15th Oct 2017
28th Sunday in Ordinary Time – Year A

Email info@ballynacally.com or click HERE
Check us out on facebook! @ballynacallylissycaseyparish
Keep up to date with Parish news, events, information etc
Parish Office opening hours for the coming week:
Tues, Wed & Thurs 10am – 3pm

Deadline for newsletter entries is 12pm on Thursdays
Christ the King Church, Ballycorick - Masses:
Sat Oct 14th          8pm        Harvest Mass
Thurs Oct 19th     9.30am  Mass for the People
Fri Oct 20th           8pm        First Anniversary Mass for Eugene O'Connor, Drumquin
Sat Oct 21st          8pm        First Anniversary Mass for Marguerite McCarthy (Dublin) and the Hewson Family
Our Lady of the Wayside Church, Lissycasey - Masses:
Sun Oct 15th          11am     Anniversary Mass for the Following:
Edmund Fenton, New Road, Straffan, Co Kildare
Paddy & Harry O'Loughlin, Cahermore, Kilmaley
Kitty Considine, Ballydineen
Senan Mulqueen, Killimer
Patricia Cahill, Kilmaley
Micko Scanlan, Cloncolman
Bill Pyne, Lissycasey
Peggie & Josie Hayes, Decomade
Delia & Joe Hayes, Decomade
Liam Kelly, Lissycasey
Michael Carey, Moyasta
Mary Gavin, Clonmacken, Limerick
Miko Breen, Glaun, Lissycasey
John McMahon, Decomade Upper
Michael Considine, Frure
Maire MacNamara, Leimnaleha
James Corry, Lissycasey Upper
Marty Keane, Beneden
Karl Daly, Music Hill
Michael O'Dea, London & Feenagh
Jamsey Doohan, Frure North
Declan Doohan, Frure North
Joe Considine, Frure North
Sean Doohan, High Street & Grandparents Pat & Ellen
Mick Keane, Lissycasey
Agnes Carrigg, Cloncolman
Martin Ronan, Frure & Deceased Family Members
John Lynch, Beneden
Jack Kearney, Frure
Mary Kate & Patrick Sullivan, Shannon View
Patrick & Elizabeth Landers, Frure North
John Landers, Ashfield, Gort, Co Galway
Anthony Clohessy, Caherea
Gearoid O'Sullivan, Lissycasey
Patrick, Mike & Johnny Malone, Decomade
Tues Oct 17th       9.30am  Mass
Wed Oct 18th        7.30pm  First Anniversary Mass for
James Finnucane, Frure
Sun Oct 22nd        11am     Mass
Eucharistic Adoration in Lissycasey every Wed 6pm – 10pm
Mass Schedule in Radharc na nOileán:
Over recent weeks our parish pastoral councils and our cluster co-ordinating group have discussed how best to arrange the Mass schedule in our three parishes to reflect the fact that all three parishes now share one parish priest. The revised schedule is as follows:
St Mary's Church, Cranny*:
Saturday (Vigil Mass) 7pm (winter) & 8pm (summer)
Church of Christ the King, Ballycorick*
Saturday (Vigil Mass) 7pm (winter) & 8pm (summer)
St Benedict's Church, Coolmeen:
Sunday 9am
St Michael's Church, Kildysart:
Sunday 10.30am
Church of Our Lady of the Wayside, Lissycasey:
Sunday 12 noon
*Mass times in Cranny and Ballycorick change when the time changes.
This new schedule will begin on the weekend of 4-5 November, 2017 (the weekend after the time changes). We appreciate that this new schedule might not be convenient for everyone. However, we are glad that we will continue to have Sunday Mass celebrated in each of our five churches. We are especially grateful to Fr Joe Hourigan for his ongoing contribution to the life and wellbeing of our parishes.
A card with the revised times is available with the newsletter or in church porches. We thank all our parishioners for their continued participation in Sunday Mass and for their contribution to the life of our parish.
Finances:                             Ballycorick          Lissycasey
Oct 7th & Oct 8th                     €448.71                 €577.71
Mission Month of October 2017: Next Sunday, Pope Francis invites all Catholics to contribute to a special collection that supports churches, hospitals, schools, and vocations in countries where the church is new. We invite your prayers for all those who are involved in any ways as Missionaries. We also invite you to be as generous as you can to this important work.
Ballycorick Eucharistic Ministers:
Sat 21st: Bernie Gavin, Mary Garry, Mary Hill
Lissycasey Eucharistic Ministers:
Sun 22nd: Moira Hill, Frances Clancy, Kathleen Breen
Ballycorick Reader: 
Sat 21st: Mary Sheehan

Lissycasey Readers:
Sun 22nd: Rebecca Cahill     Prayers of Faithful: Grace O'Sullivan

Ballycorick Servers:
Sat 21st: Meadhbh & Cian O'Muineachain, Phoebe O'Shea
Supervisor: Conn O'Muineachain

We pray for the repose of the soul of Mary Carmody, Kilkee, mother of Ann Weaver, Lissycasey who was laid to rest during the week.

Congratulations to Olivia Honan, Coolsippeen and Padraig Gurnett, Ardfert, Co. Kerry, who were married in Ballycorick last week.

Sacred Heart Messenger Magazine for November is available for promoters in the sacristy of Ballycorick Church

Matt Talbot Novena: The third session of this year's Matt Talbot Novena continues this Monday at 7.30pm in St. Senan's Church Kilrush and on Tuesday at 7pm in SS. John & Paul Church Shannon, when our Preacher will be Fr. Donagh O'Meara, Ogonnelloe. Praying for all suffering or sharing in the life of addictions. Petitions/Prayers of thanksgiving can be left at the shrine or sent to the special petition email on shannonparish.ie where the Novena can also be watched live each week. A warm welcome awaits all!

Mass Census: the final count of attendees will be taken at all Masses this weekend.

Safeguarding awareness session for all people in parishes that come into contact with children, i.e., pray and play, Altar Server helpers, Children's Choirs, Youth Ministry, Eucharistic Ministers., parish Secretaries etc. These sessions should be attended at least every 3 years. Your local session takes place on Wednesday 18th October 2017 at Crusheen Parish Centre. 7pm-9pm

Fundraising Table Quiz in aid of Fr David in Tanzania will take place in The Five Arches, Ballycorick on November 3rd at 8.30pm

Easter Pilgrimage to Fatima in Portugal for 6 days, 28th March to 2nd April 2018, ex Dublin, Led by Fr. Kevin O'Boyle. Price includes Hotels, Return Flights, Buses and Food. Also included is Mass in Saint Anthony's Church in Lisbon where Saint Anthony was born. Station of the Cross and mass in Fatima. Don't be disappointed so Book Early as 100 euro deposit secures place. For Brochure contact James Treacy 0860572216 or 061921470 after 9pm or otherwise leave your details on voicemail.
Thank you: Maretta O'Hehir wishes to thank all who supported the recent coffee evening in aid of our local hospice in Cahercalla. A total of €357.05 was raised. Thanks also to Mary Donnelly for the annual use of her premises.
Clondegad GAA News: Clondegad play Miltown in the semi-final of the senior championship. The bally boys would need to be well geared up for this one as Miltown will go in as favourites having won the county championship in 2015. Game is on Sunday in Cooraclare. U15s play Kilmurry in the west Clare. U10s go to Mallow. U6/8+10s train Thursday evenings.
Lissycasey GAA Club News: Lissycasey U13s play Doonbeg in the Semi final of the West Clare competition this weekend. .
Lissycasey GAA shop will be open on Friday Oct 20th to take further orders for Christmas. Our Christmas club is now open. Lissycasey GAA club offer our deepest sympathy to Ann Weaver on the death of her mother Mary Carmody. Ar dheis de go raibh a anam dilis.

Lissycasey GAA Club Lotto: 9/10/17: Numbers 1-10-15-28: No Jackpot/ Match 3: Lucky Dip: 1. Peter Power, Lissycasey: 2. J&A Kelly, Benedin 3. Tommy Nagle, Pitfield 4. Esther O'Leary, Lissycasey. 5. Smart lotto: Declan Meaney, Lismorris. Lotto 16/10/17 €9,900. Play Lotto online https://game.smartlotto.ie Lotto €2 or 3 for €5.00
Fergus Athletic Club: The county uneven age cross country championships were held in Clarecastle on Sunday last. Once again the local club were well represented, Star of the day was Liam Keane who won a gold medal in the boys u/9 race while in the team events the girls u/9s won bronze with the boys u/15s claiming silver. Meanwhile the Patrick O'Dea races are fixed for Sunday October 29th with events for both under age and adults.
Fergus Rovers Ladies Football: Last weekend was a very busy weekend for Fergus Rovers. On Saturday a selection of the Intermediate panel participated in the Sile Callinan Memorial Tournament in Cooraclare winning their three group matches before bowing out to West Clare Gaels in the semi final of the cup.
On Sunday the Minors suffered a heavy defeat to Shannon Gaels/Coolmeen 6-14 to 1-4 and so exited the main championship. They will now go on to the Shield competition. The U 14s lost out to Banner Ladies 3-5 to 3-3 in a very exciting Div. 2 league final. The U 12 Yellow team recorded two wins over the weekend accounting for Wolfe Tones 3-11 to 4-5 and Kilmihil 7-9 to 3-4 to qualify for a Shield final v Clooney Quin on this Saturday. The U 12 Blue team lost to Doora Barefield 3-7 to 2-1 but are through to a final on Sunday (see website for further details). Finally, thanks to all the mentors and jersey washers!
U 10s are waiting on details of a Blitz due to be hosted by West Clare Gaels which would draw their season to a close while U 8s are now finished for the year.
The G4M&Os are participating in the national Blitz in Dublin this weekend.
Aged 16-35? Looking for a place to share and grow in faith? Youth 2000 prayer meeting, Fridays, Ennis parish office at 7:30pm. Join us for adoration, music, reflection, chats and tea. All welcome.
Cahercalla Hospice Draw Results:
1st Prize €650: Mary Hickey, Drimeen
2nd Prize €200: Marie Mulrennan, Sixmilebridge
Knitting & Crochet Classes: Monday nights 7.30pm – 9pm at Kildysart Hall. €5 per class.
CPR & Defibrillator Training. Ballynacally CPR & Defibrillator Group has organised CPR & Defibrillator training for Sun Nov 5th in Ballynacally Community Hall. Training runs from 10am-1.30pm. We strongly encourage those trained in 2015 or earlier to refresh these lifesavings skills. We also welcome anyone in the parish who was not trained previously. Cost for the course is 10 Euro. Numbers are limited. Please contact Ronan O'Ceallaigh at (087) 2071108 if interested.
St Francis Credit Union are celebrating International Credit Union Day on the 19th & 20th Oct. We would like to welcome all members & non-members to join us in our LissycaseyOffice as we will have plenty of prizes & goodies to mark the occasion. Any questions or suggestions you may have about your credit union will be welcomed on the day. See you between 10am & 5pm on Thursday & Friday between 2pm to 6pm.
Rosary: During the month of October we will have daily recitation of the rosary in both churches. This year we are hoping that people or families who have not previously attended can get to at least one night of the Rosary per week. Ballycorick Church at the earlier time of 7pm and Lissycasey Church at 8pm

Saturday, October 7th
Feast of Our Lady of the Rosary
The Pilgrim Icon of Divine Mercy
Bringing Graces to each Parish, Home, Family & Devotee!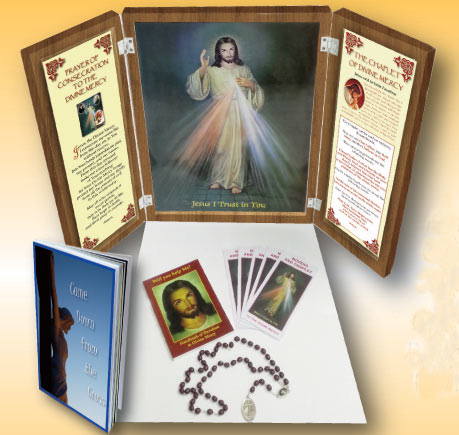 The Pilgrim Icon of Divine Mercy has been donated to our parish. It is available from the Parish Office so we encourage people/families to invite Jesus the Divine Mercy into their homes for one week.
Once a day for 7 days, pray the Divine Mercy Chaplet in front of the Pilgrim Icon consecrating your home and your family to Divine Mercy. Make it a very special week in your life with Divine Mercy as an honoured guest!
Phone the Parish Office on 065-6838135 Tues-Thurs 10am -3pm or text 087-4160385 to request the icon for your home for a week